Electric, Plumbing, Heating and Air Services in Pomona, CA
Pomona, CA is a great place to be. Not only is Pomona home to incredible dining, shopping, and music experiences at the Pomona Fairplex and Los Angeles Country Fair, but it is also home to Accurate Electric, Plumbing, Heating, and Air. 
For over two decades, the Pomona, CA area has relied on us for excellent service, installation, and repair in both residential and commercial properties for electrical, plumbing, and HVAC services! We take pride in our skilled team of technicians – they are all licensed and trained experts who have been background checked and tested for drugs before being allowed to work. You can count on us to get the job done right the first time and according to your schedule. 
Call us at (626) 495-3046 or contact us to receive a quote or schedule a service with us! And don't forget to check out this month's specials!
Local Reviews for Pomona, CA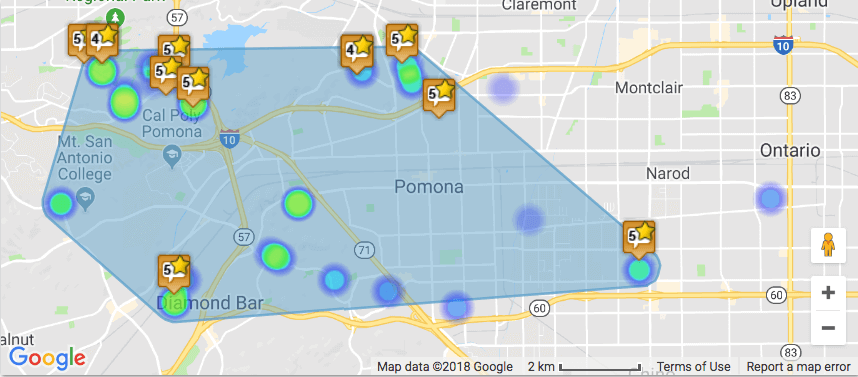 ---
   "Better than expected service"
"I have used this company a couple of times and both times the service has been prompt, honest and accurate. The techs are very knowledgeable and are willing to work with my time scheduling since I am a Realtor and I call to have client's homes worked on, the techs send me a text or call me to let me know they are on their way." —Mirna Morales| Pomona, CA
---
   "Outstanding service"
"Once again, I am grateful to have found Rick to help me on the day we were closing escrow!" —Mirna| Pomona, CA
---
   "Excellent Experience"
"This was an overall excellent experience with excellent service. Josimar is courteous, professional, knowledgeable and thorough. Very satisfied with this experience and the inspector came by today and approved all the work done. Thank you Josimar." —Rosemarie| Pomona, CA
---
   "Outstanding Service"
"Josimar did an outstanding job of installing an RV outlet 40 feet from my main panel. They installed a circuit breaker in my panel, ran 40 feet of electrical piping and installed a waterproof 30 amp outlet on the front of the house. Great attitude and super helpful." —Kevin| Pomona, CA
---
   "Great Service"
"Cory Davis did an outstanding service and works for a wonderful company Accurate Electric Plumbing which I will recommend to everyone." —Bertha| Pomona, CA
---
   "Good, friendly, honest service. Price for job was a little steep! "
"Corey and Chad were great." —Andy| Pomona, CA
---
   "Very good"
"Fair, honest, friendly." —Andy| Pomona, CA
---
   "Great service and found problem quickly. Removed & repaired 2 new motion lights"
"Pricing a little steep, but wasn't sure what to expect. Pleased with service and work done overall!" —Jim| Pomona, CA
---
Electrical Services in Pomona
If you're a fan of escape rooms, Pomona has one of the best! The 13th Room is a creepy challenge with an old-fashioned ambiance. A fun experience for some, if your home is starting to resemble this Pomona past-time, it may be time for some updates and home improvements. Accurate technicians are highly knowledgeable about the latest smart home technology that can transport your home from an outdated space into the 21st century! Not only will your home feel more modern with sleek technology, it will also operate more efficiently. The more your home systems are integrated, the more built in efficiencies within your home and ease of access for you. Increased efficiency will have you saving more money and energy. If you manage to escape The 13th Room only to come home to another escape room, it's time to call Accurate!
Your Pomona electricians love to serve all of your electrical needs. We are equipped to service electrical wiring and rewiring, EV charging stations, indoor/outdoor lighting, and more! We do it all!
If it's electrical and in Pomona, we can help!
Electrical Wiring and Rewiring
Electrical Panel Change Outs
Lighting
EV Charging Station
Emergency Electrical Services
Data Wiring
GFCI Protection
Smoke Detectors
–> And much, much more! Click here for more electric services.
Plumbing Services in Pomona
Your Pomona plumbers love to serve all of your plumbing needs. We are equipped to do repiping, drain cleaning, water heater repair, sewer blockage removal, and more! We do it all!
If it's plumbing and in Pomona, we can help!
Re-piping
Drain Cleaning
Water Heater Repair
Sewer blockages
Emergency Plumbing Repair
Low Water Pressure
Water Heater Replacement
Flooding
-> And much, much more! Click here for more plumbing services.
Heating Services in Pomona
Your Pomona heating specialist loves to serve all of your heating needs. We are equipped to do heating system installation, heating repairs, zoned HVAC systems, gas piping, and more! We do it all!
If it's heating and in Pomona, we can help!
Heating System Installation
Heating System Repair
Heating System Maintenance
Ductwork Repair and Service
Zoned HVAC Systems
Heating System Equipment
Heat Pumps
Indoor Air Quality
-> And much, much more! Click here for more heating services.
Air Conditioning Services in Pomona
Your Pomona air conditioning specialist loves to serve all of your cooling needs. We are equipped to do air conditioning installation and repair, ductwork, whole fan installation, and more! We do it all!
If it's air conditioning and in Pomona, we can help!
Air Conditioning Installation
Air Conditioning Repair
Air Conditioning Maintenance
Ductwork Repair and Service
Whole House Fans
Indoor Air Quality
Ductwork Installation
Air Conditioning Components
-> And much, much more! Click here for more air conditioning services.
Accurate Electric, Plumbing, Heating & Cooling: You Can Count on Us
Have you ever experienced home or business maintenance issues that just can't wait, like a lack of hot water or a strange buzzing sound coming from your electrical outlets? And what happens when you do not take care of these repairs and maintenance immediately? 
Calling Accurate for help with electrical services, plumbing services, or HVAC services is the perfect decision. We understand that problems can arise out of nowhere and you don't have time to waste. Our team of experts are available every day to provide timely solutions with maintenance, tune-ups, and repairs. We take great pride in our reliable services to help ensure that your issue is resolved quickly and efficiently. To get the peace of mind you deserve, call us today! 
Electrical Repairs
Electricity is an integral part of any home or business, and electrical problems can easily go undetected if not taken care of properly. Especially with older properties, electrical panels and wiring should be inspected to make sure everything is functioning correctly and up-to-date – electrical fires are a real risk when wiring isn't replaced in a timely fashion. 
To keep your electrical system safe from potential electrical fires, it's important to contact an electrical company that you can trust; luckily for you, our team of electricians is skilled at providing all kinds of electrical services, from repairs to  installations for buildings aged 40 years or more. Give us a call today and save yourself time and money by correcting small issues before they become more major hazards.
Plumbing Repairs
Plumbing problems can be overwhelming and coming to terms with plumbing issues around the house is never an easy thing. Knowing when plumbing repairs, plumbing installations, and plumbing maintenance services are necessary is essential to avoid potential mega-costs. Neglecting plumbing problems or delaying plumbing solutions could result in catastrophic consequences such as water damages costing thousands of dollars. 
That's why trusting our plumbing technicians for accurate detection and thorough repair of all plumbing components is so important. Our experienced professionals will ensure that no plumbing problem is left undetected and you won't have to face any costly repair bills.
HVAC Repairs and Maintenance
Nobody likes to learn that their HVAC system needs repair, but HVAC services can help protect you and your home. By calling us right away when you notice something off, we can come out and make repairs before the system stops working completely. Not only will this ensure that your home remains comfortable, it also helps to keep the costs of the repairs down.  
In some cases, an HVAC installation may be a better solution than repairing an existing unit. If the cost of the repair exceeds 40 percent of the cost of buying new HVAC equipment, then investing in a replacement is likely more economical in the long run. Discuss your HVAC needs with our HVAC contractors when they visit your home as they can provide invaluable advice on what makes most sense for you given your unique circumstances. From HVAC installations to repair and beyond, we want to make sure you are satisfied with our services!
Why Call Accurate for your Electric, Plumbing, Heating, and Cooling Services in Pomona, CA?
At Accurate, we understand the importance of providing 5-star service and that's what we do best. We started as a family-owned business and continue to be true to our values by being warm, concerned, and respectful toward all our customers. Whatever electrical, HVAC, or plumbing services you require, we are here to take care of your home as if it were our own.
Real people answer your call – Your call is important
Work scheduled at your convenience – On-time arrival with a reminder call 30-minutes prior to technician arriving
Experienced Technicians – State-certified and licensed experts, professional workmanship provided, and trained in the latest technologies
Through clean-up – Spotless red carpet services with shoe covers and a clean-up that looks like we were never there
Accurate Promise – "If you're not 100% satisfied, we'll make it right or you don't pay!"
Having experienced technicians in Pomona for electric, plumbing, heating and air allows you to rely on just one company for all your home service needs – especially for the big jobs.
Call us at (626) 495-3046 or contact us to receive a quote or schedule a service with us; our technicians are waiting to help you!
SIGNUP FOR OUR NEWSLETTER